Our eight favourite product management certifications
Product management certifications are the talk of the town – and for good reason.
With product management careers taking off in recent years (Glassdoor named it the #3 best UK job in 2022), it comes as no surprise that courses and certifications are cropping up here, there, and everywhere.
And while it's easy to see that simply as opportunism - businesses looking to capitalise on the popularity of the profession - there are a bunch of valid reasons to take a product management certification or course.
But is it worth it? And how do you know which to choose? Because knowing which to pick can feel like the world's most expensive game of whack-a-mole.
Don't worry - we've got you covered.
Here are our eight favourite product management certifications of 2023.
What is a product management certification?
The great thing about being a product manager is that you don't need formal training.
Product management undergraduate degrees aren't really a thing (although Thinkful suggests business, computer science, or economics degrees would be useful), with most product managers starting out in entry-level product roles.
It's very much a learn-as-you-go kind of career, given that every product, dev cycle, and team varies wildly.
But a product management certification can be a huge help - either as a foot in the door, the key to your next promotion, to round out your skills and knowledge, or to stop you getting rusty.
Is getting a product management certification worth it?
We can't answer this one for you.
It depends on a lot of factors: your career aspirations, your current experience level, what kind of learning works for you, how much money you're willing to part with, and loads more.
But it is worth noting that 58% of respondents to a 280 Group survey said the skills of their in-house product managers were average or below.
While it's not damning to learn that the majority of people are, erm, average - we'd put ourselves firmly in that category if we were talking 5k times or gracious Monopoly victories - it does highlight the opportunities associated with upskilling.
A product management certification might just be what takes your abilities to the next level and helps you stand out in a hyper-competitive market.
But now let's get into it: which product management certifications are worth the hype?
1. Product School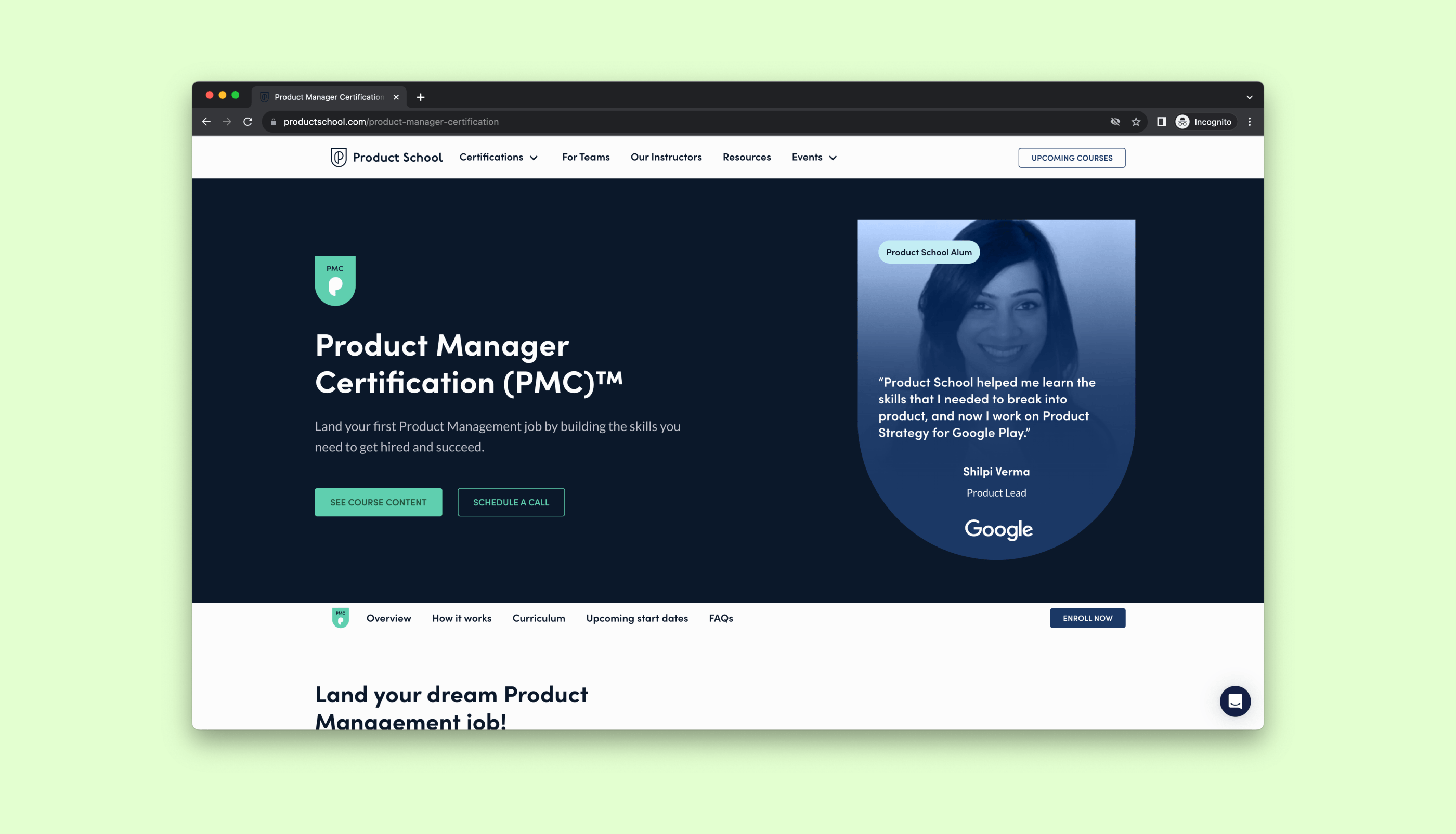 Let's start with a no-nonsense product management certification with a top-notch reputation.
Because if that's what you're after, Product School's offerings might just take the cake.
There are three courses up for grabs that are ridiculously easy to understand:
1️⃣ Product Management Certification (get your first product management job). Designed for learning the ropes, this course helps you understand the basics, build a solid portfolio, and covers everything from mastering strategic alignment to creating the ultimate go-to-market plan.
2️⃣ Product Leader Certification (get your next product management promotion). The skills needed to make a start and to truly excel aren't the same, making this certification perfect for boosting your building, refining, iterating, and decision-making skills.
3️⃣ Product Marketing Manager Certification (get your first product marketing job). Found a passion for product positioning, meticulous messaging and mastering metrics? This one's for you.
What we really rate about Product School are the subject matter experts and the courses' flexibility.
Each offers part-time or fast-track options – depending on your schedule and approach to learning – and boasts Silicon Valley instructors from the likes of Google, Facebook, Netflix, Airbnb, PayPal, Uber, and Amazon.
The prices seem to vary (but you can expect to pay upwards of $4,000/£3,250 per course), and they have a reputation for filling up fast.
That said, when it comes to reputation, content, and resources (you also get access to an online community of 15,000+ product professionals and unlimited two-year access to the course's content and tools), Product School is hard to beat.
2. Product HQ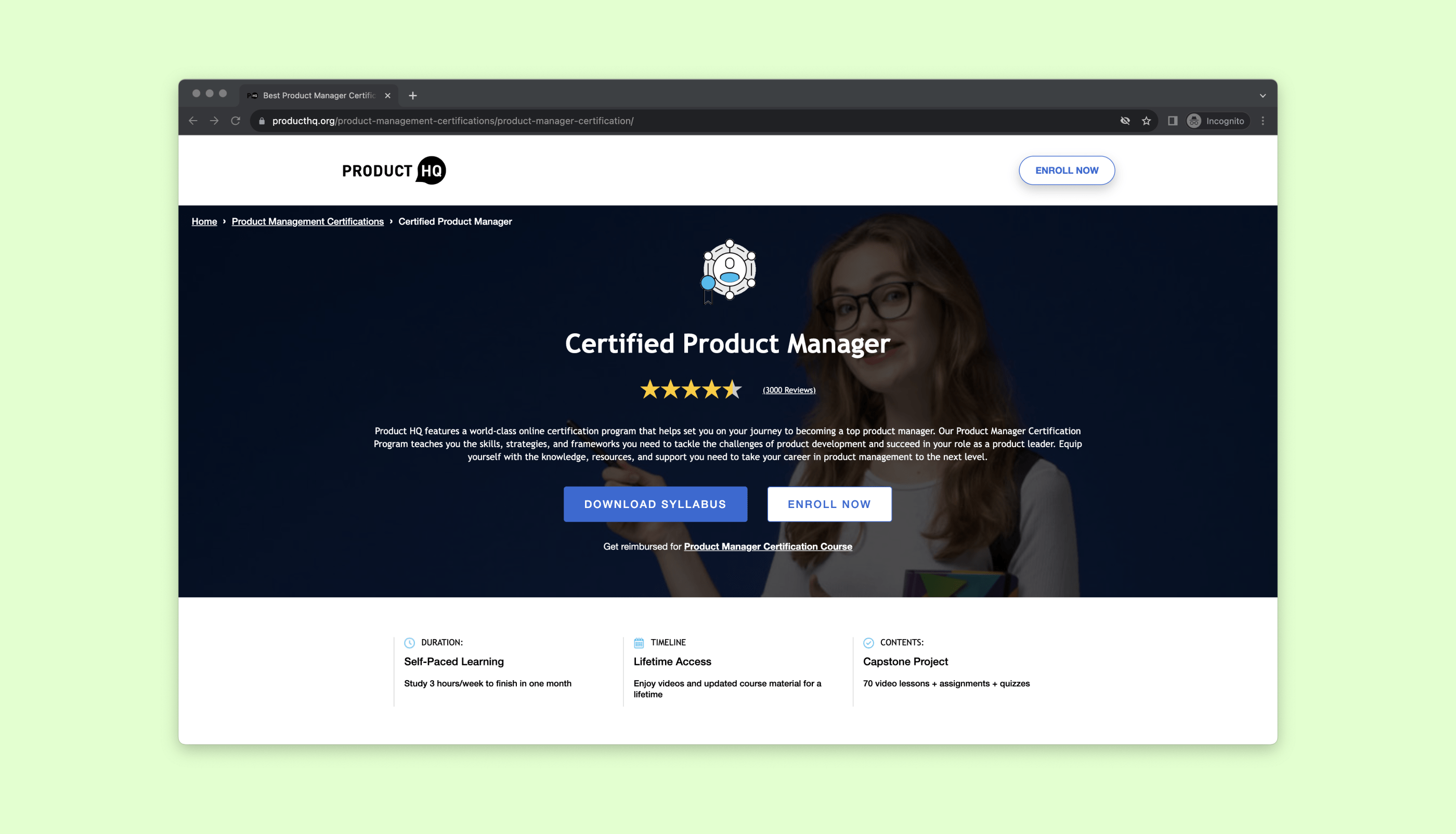 New to product management?
Looking for an affordable course with a low barrier to entry and self-paced learning?
We recommend checking out Product HQ.
Let's get this outta the way - it's less than 1/10th the price of Product School's offerings. Sure, the content may be simpler, but for $350 (roughly £285), this one's a total steal.
With its Certified Product Manager course, you get access to:
✅ 70+ lectures
✅ 6+ hours of content
✅ 5+ downloadable templates
✅ Exclusive interviews with industry veterans
✅ Like Product School, access to an online Slack community
Be warned, though - this is a course for noobs through and through.
And they don't shy away from it, either, advertising the course at people who "lack a formal background", "aren't sure if product management is a good fit", or "have no idea what product management entails".
(We do recommend at least knowing what a career entails before dropping your hard-earned cash on a certification…)
But it's also worth noting that they offer a bunch of other, more niche certifications, like AI Product Management, Certified Techincal Product Manager, and Product Writing.
So while Product Manager HQ's offering will be too basic for many, it's hard to argue with this kind of value.
3. Reforge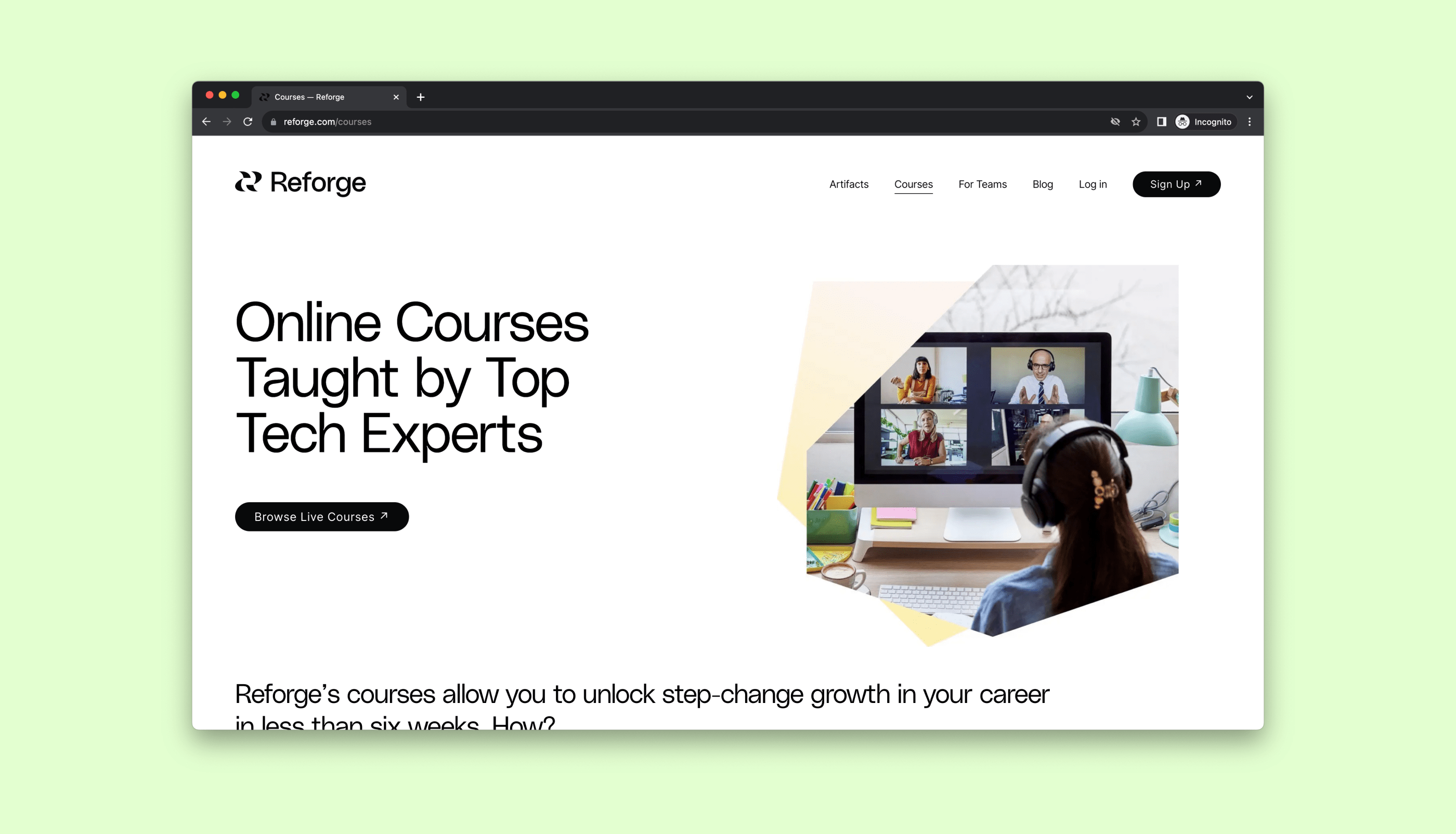 "Operators. Not influencers."
Reforge's approach to product management certification is summed up by the opening line on its experts page.
It's a solid option, emphasising the importance of grounded, real-world experience over the kind of clout-first fluff that can invade some certifications out there.
With courses that help "separate yourself from the crowd", the most impressive part of Reforge's offering is the sheer variety on display. With a mixture of live and on-demand courses (including many that are in beta), you expect courses like:
👉 Tech Foundations for Product Managers
👉 Product Management Foundations
👉 Storytelling for Product Managers
👉 Design & Build Conversational AI
👉 Mastering Product Management
👉 Managing Your PM Career
👉 Experimentation & Testing
👉 Scaling Product Delivery
There really is something for everyone, and accommodating for different experiences, skill levels, and niches is what sets Reforge apart from the rest of this list.
It is worth noting, though, that all of its courses are locked behind a yearly membership, and the cheapest option right now is $1,995 (roughly £1,630).
And while that – combined with the fact a lot of its most exciting courses aren't on-demand – is a bummer, membership does still grant you access to the usual suspects: downloadable templates, a full content library, and, you guessed it, a Slack community.
So, if you're open to a long-term relationship rather than just a fling, Reforge's product management courses offer credible, varied experiences for newcomers and industry veterans alike.
4. AIPMM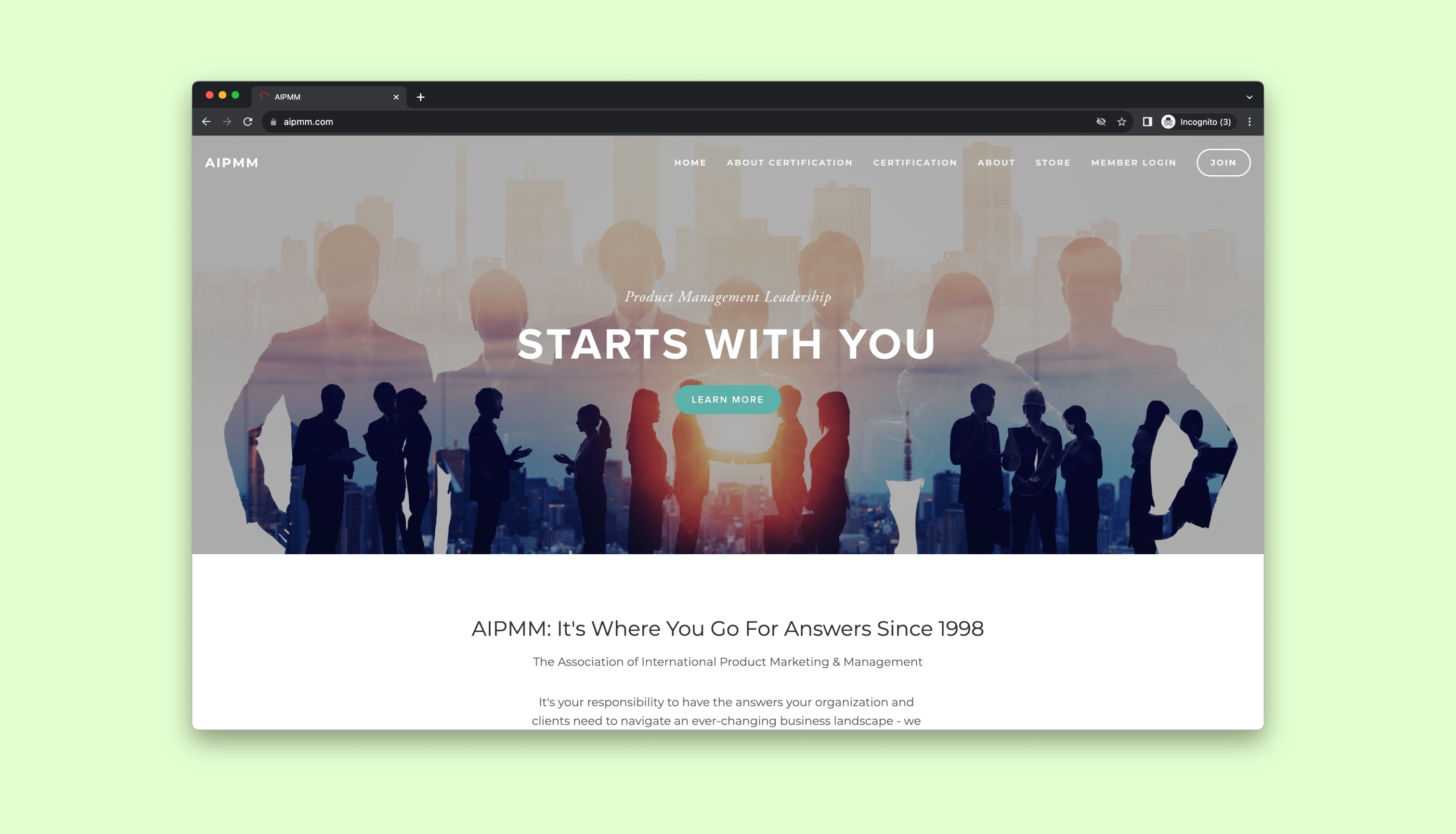 Done in partnership with 280 Group, the Association of International Product Marketing and Management's choice of courses are some of the best-known – and rigorous – product management certifications out there.
Although there are no UK-based authorised training partners, AIPMM points out that its courses are still perfectly viable when done solo "with dedication and proper resources".
There are specialisation options on display here, all coming with the clout of being dished out by the largest internationally recognised association for product managers.
1️⃣ Certified Product Manager. Synonymous with a "commitment to excellence", this course means you can demonstrate experience in developing case studies, carrying out market planning, defining product specifications and more.
2️⃣ Certified Product Marketing Manager. Does what it says on the tin - albeit with flair. As you might expect, there's a much larger emphasis on managing the creation of marketing deliverables, as well as generating and executing marketing plans and budgets.
3️⃣ Agile Certified Product Manager and Owner. Probably our favourite. Going beyond the basics of how to be a Scrum product owner, this one covers best practices to be successful with the agile approach, as well as concepts like Lean, XP, and Kanban.
4️⃣ Certified Digital Product Manager. Promising the tools to advance your career and "build better digital products that meet customer needs", you can't go wrong here with this choice.
Although it requires separate membership and exam fees - as well as the potential headache of not having a UK training partner - AIPMM's product management certifications are some of the best out there.
5. King's College London Product Management Career Accelerator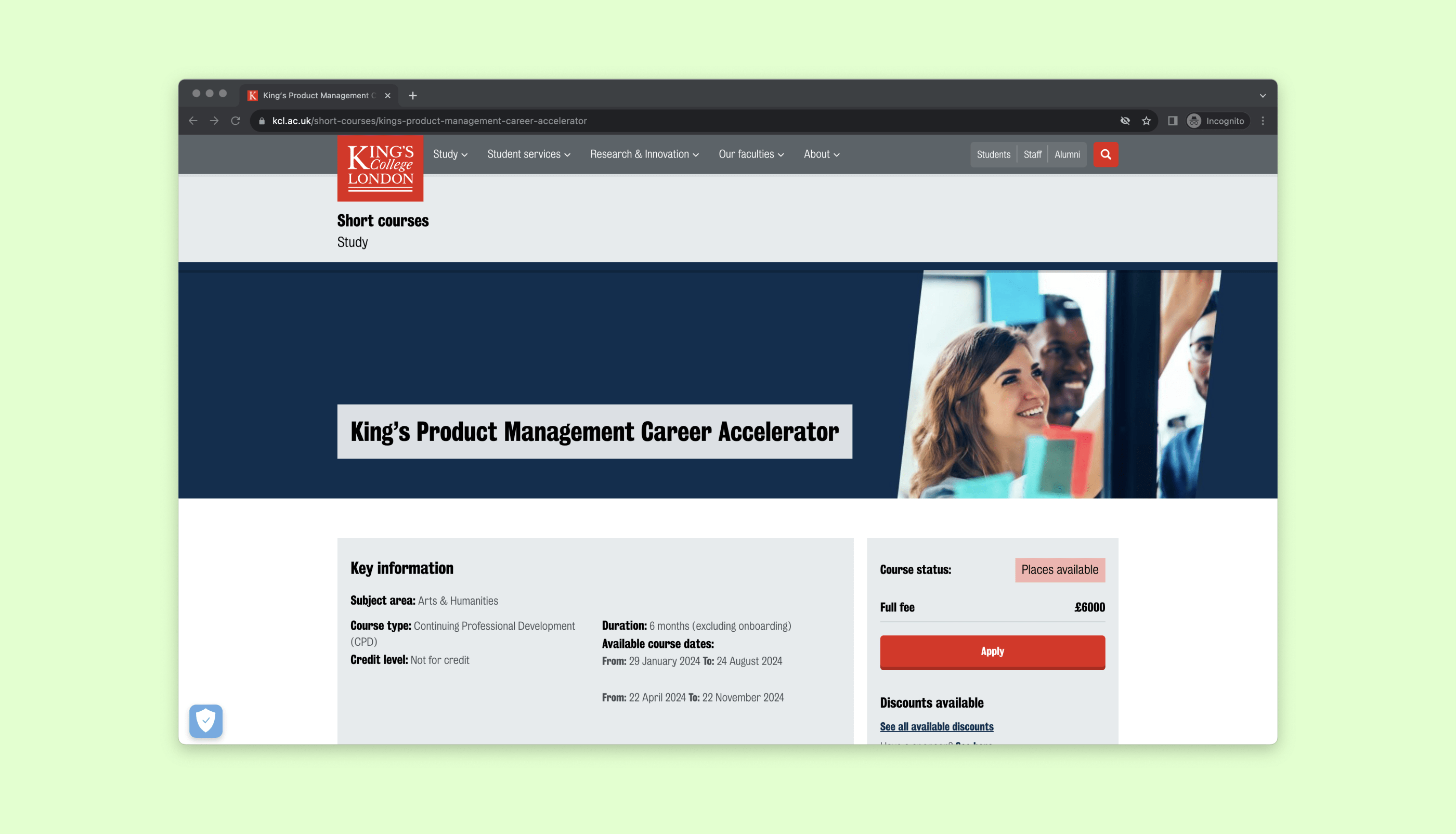 The product management certifications we've listed up until this point have been distinctly modern: Silicon Valley experts, Slack channels, online templates, digital certificates – you get the gist.
That's not to say King's College London's Product Management Career Accelerator isn't modern (although it is a mouthful).
You'll still have access to contemporary product pros like Janna Bastow, CEO of ProdPad, Marc Abraham, Group Product Manager of Intercom, and folks from the likes of Atlassian and Dropbox.
But what's unique about the Product Management Career Accelerator is that it offers a blend between university-style teaching and grounded, practical experience.
Formatted in a semester style, this is one of the longest and most demanding courses out there, clocking in at 6 months with a 12-hour commitment per week. And – this might be the kicker for some – it costs £6,000.
By all means, it's an offering much more akin to a genuine university-style education (albeit a flexible one).
But with those potential issues out the way, let's talk positives – because there are loads.
✅ It's broken into three courses. Titled Product management and strategy, Product design and development, and Launching a product to market, KCL really has all bases covered here.
✅ It accommodates different learning styles. Formal education-style teaching isn't for everyone, but this course offers an impressive combination for those starting their career or looking to advance their product management expertise, all with 1:1 coaching throughout.
✅ Frequent availability. While it's not on-demand, new cohorts start every 3 months, meaning you'll never be waiting too long for a spot.
Overall: it's expensive - again, whether a product management certification is worth the cost is totally down to you - but it's one of our favourites.
6. General Assembly's Product Management Course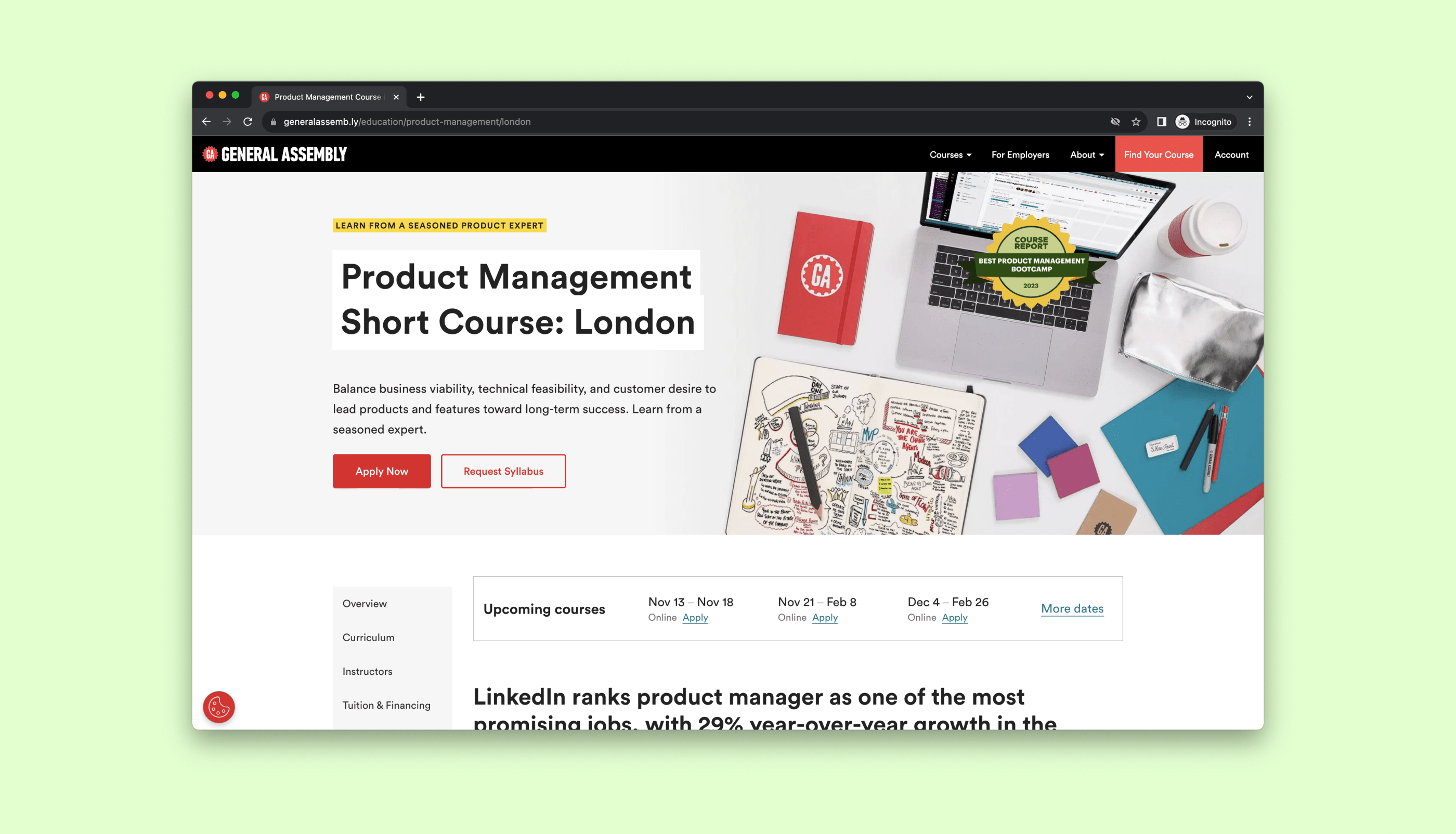 General Assembly is a jack of all trades, offering courses ranging all the way from digital marketing to Python programming.
Does that make it a master of none? Not necessarily.
In fact, a quick look at reviews on the product management subreddit shows plenty of satisfied customers, with various commenters chiming in with everything from "it helped cement ideas" to senior PMs noting they've hired out of General Assembly's course.
While also not available on-demand, its product management course takes on new recruits roughly every couple of weeks, teaching a balance of "business viability, technical feasibility, and customer desire."
Sounds good, right? It is.
And our favourite part is the choice to study part-time (10 weeks) or take the accelerator option (1 week).
It doesn't hit some of the highs of the other courses listed in terms of weighty instructors or sheer content, but at £2,800 with employer sponsorship options (and a refreshing transparency around pricing in general), this is another great foot in the door for aspiring or junior product managers.
7. Mind the Product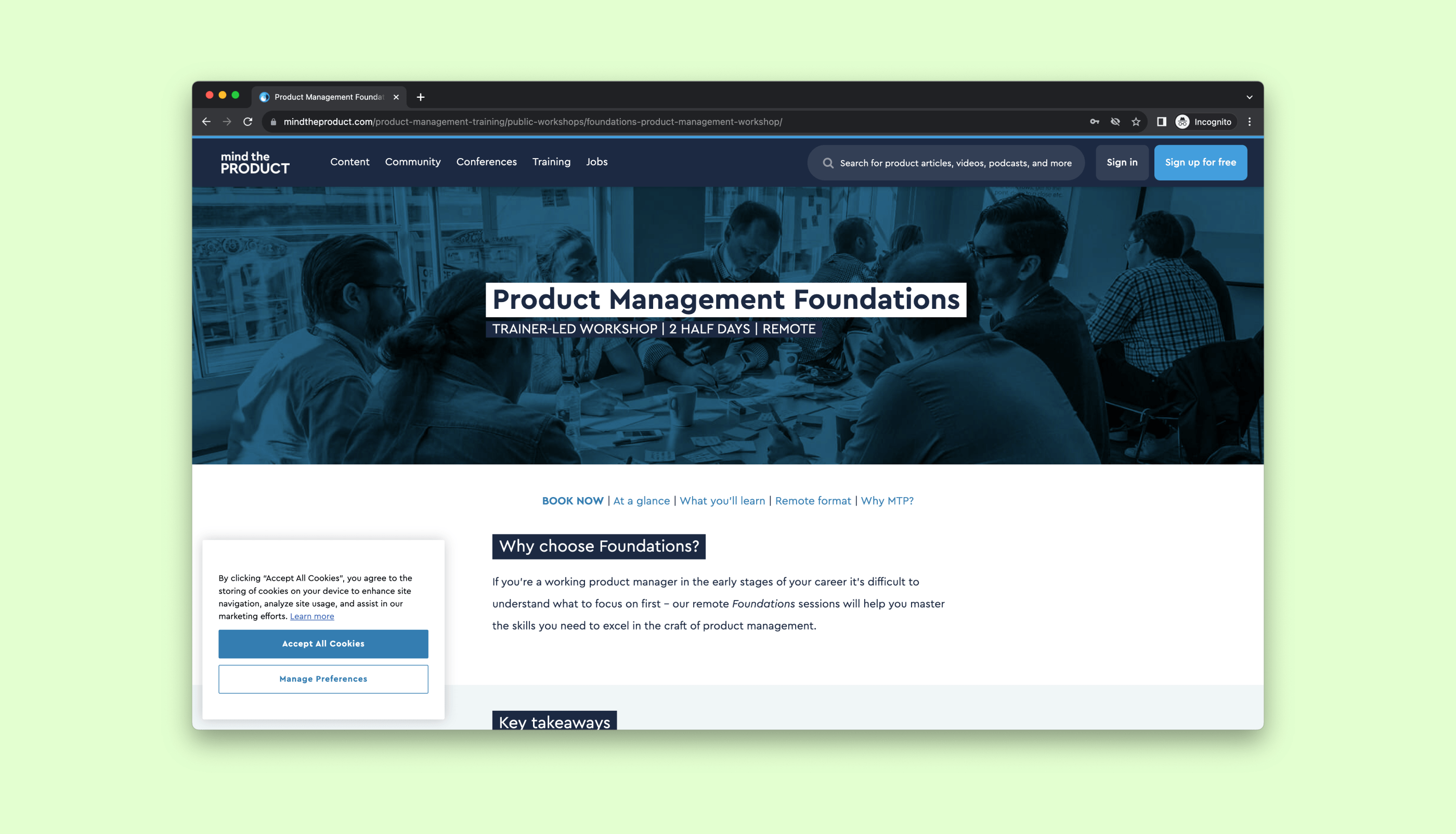 One thing's for sure: there's no shortage of courses for junior product managers.
Mind the Product - provider of conferences, training, content, and more - is no exception, thanks to its excellent trainer-led course, Product Management Foundations.
As the course page correctly points out, it's hard to know what to focus on early in your product management career, so the aim here is to get you clued up on people skills, enhance your toolkit, and gain confidence.
Aimed at PMs 6-18 months into their career, this is a short but sweet experience: two consecutive half-days of interactive training, all fully remote, for a pretty affordable price of £700/$799.
It's not just that on offer, though. Mind the Product has crafted a few more courses designed to help niche down and enhance specific skills through further courses like Product Leadership and Metrics for Product Managers - not to mention its official certifications done in collaboration with Pendo.
8. Coursera Software Product Management Specialisation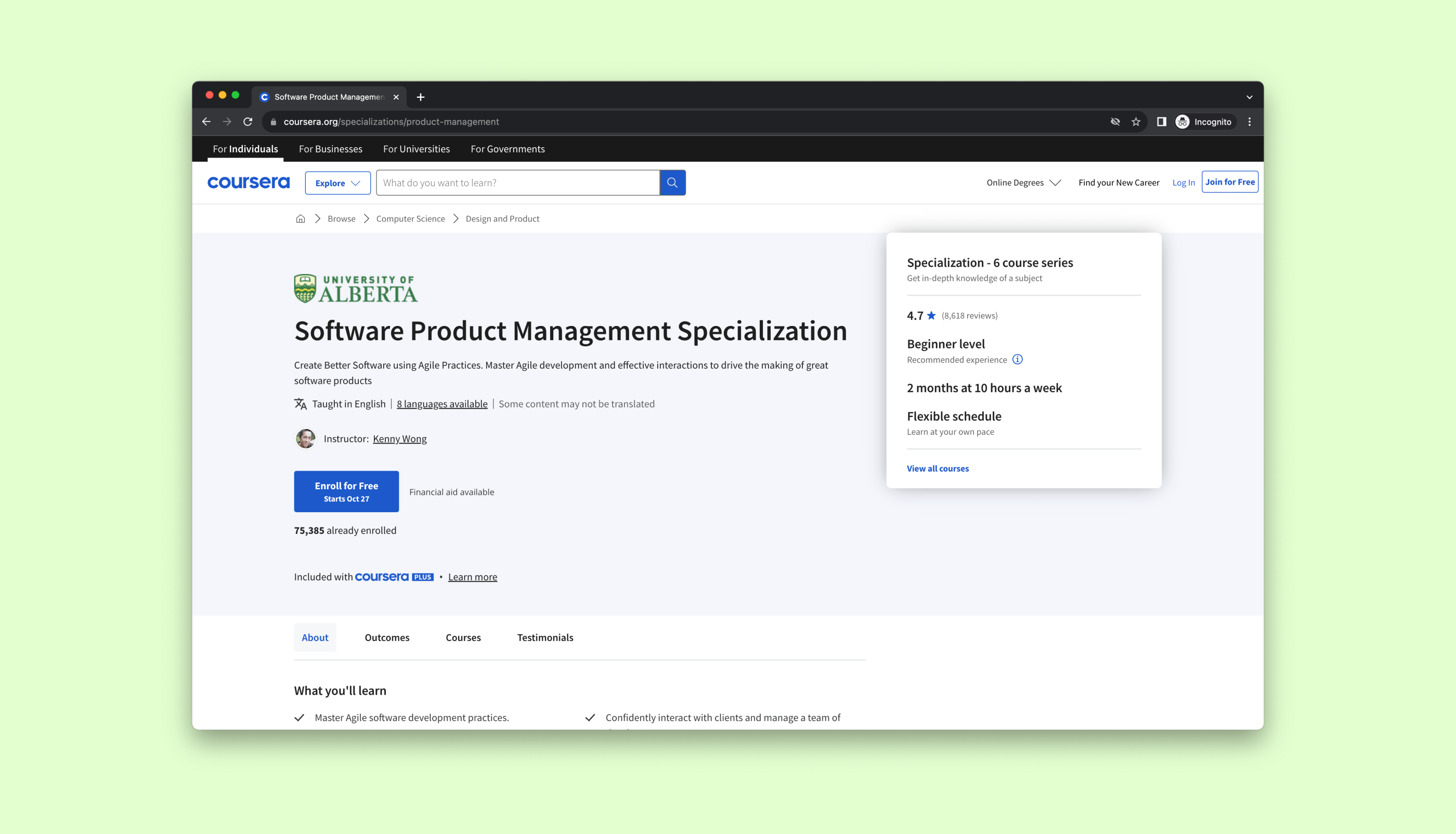 We'll be the first to admit sites like Coursera probably aren't your first calling for a well-regarded CV booster.
But some of its offerings aren't to be sniffed at – both for upskilling or getting a headstart in a new field.
Its Software Product Management Specialisation is a hidden gem of a course, with around 75,000 already enrolled and a 4.7-star rating with over 8,500 reviews.
There's nothing too surprising about its content, but you can still expect to learn:
✅ Agile software development practices
✅ Assessing and planning for project risks
✅ How to tackle client needs and software requirements
You can make the most of a one-week free trial (after that you're looking at $49/£40 a month), but it should be noted that while it offers a flexible schedule, the course takes a couple of months with a 10-hour commitment per week.
Cheap? Yes.
But not to be dismissed.
Let's wrap this up
Most employers will always value real-world product management experience over a course or certification.
That said, the offerings out there are getting better – and if you're looking to break into the industry or gain some confidence, you can't go wrong with any of our favourites.
But are there any we've missed? Any certifications you heartily recommend?
Share this article and be sure to let us know.